Pfc. R. Simmons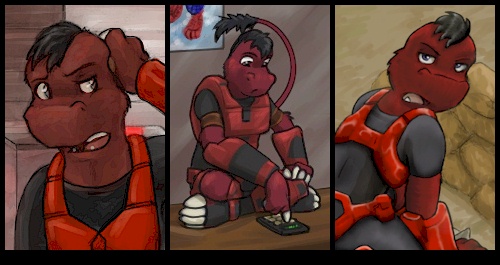 breed: shi'a, canis-equus
sex: male
color: maroon
physique: thin
likes: positive reinforcement
can't stand: laziness; getting passed over
When Simmons joined the military, he hoped to serve under the best and bravest leaders the Red Cobra Army had to offer. Instead, he got stuck in a box canyon with the worst and the laziest. Simmons copes with the hopeless situation by appealing to his commanding officer, Sarge, at every opportunity in hopes of a promotion (or at least a transfer.)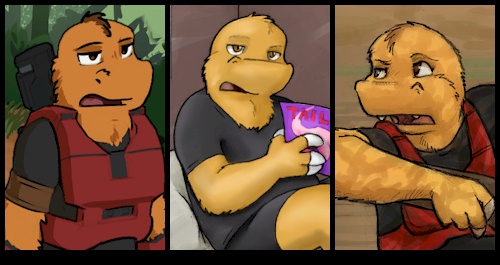 Pvt. D. Grif
breed: shi'a, felis-leporidae
sex: male
color: I keep telling everyone, it's orange
physique: chubby
likes: getting scratched under the chin, but don't tell anyone about that
can't stand: work; activities related to or resembling work
Grif had to be dragged into the army tooth and nail, as both his conscription officer and his living room sofa learned the hard way. As a member of the least competant unit of an army that couldn't care less about defending the least strategic canyon in the world, Grif gets by doing as little as possible, and he aspires to one day do the same on his old couch at home.
Pvt. F. Donut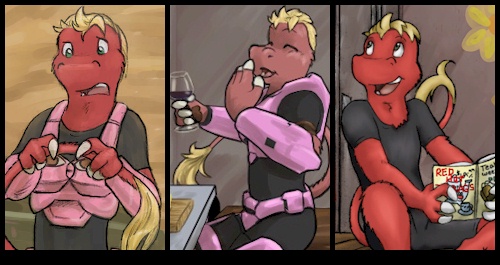 breed: shi'a, felis-catus
color: lightish-red
sex: not a girl
physique: slender
likes: a hot cup of tea; anything lilac-scented
can't stand: sticky fur; stereotyping
Donut's free-spirited nature and less-than-red appearance tends to get him pinned with some unfair labels (such as "girlie," and "cupcake," and "please put your pants back on.") Although not the brightest in the intelligence department, Donut is an enduring optimist who can add a light note to any situation (or hit a high note when Sarge calls for him to "scream like a woman" in battle.)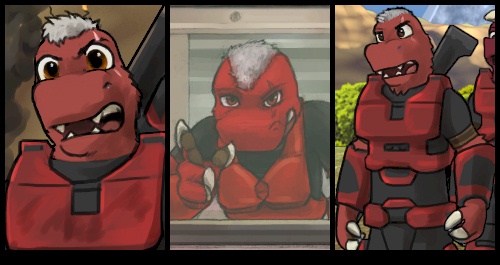 Sarge
breed: fi'la, canis-bison
sex: male
color: amaranth
physique: stocky
likes: shotguns; the blood of his enemies
can't stand: dirty blues; orange and orange accessories
Red Team's wily sergeant has been fighting for the glory of the Red Army in the back woods of Sirca's eastern territories, where he's gained a reputation for devising elaborately insane traps as well as being able to drink a gallon of hot mustard in under two minutes. While he's managed to catch twenty-six opossums and reign as the hot mustard champion at Lactan's Fort Crimson, Red Command felt that Sarge would better serve as the commander of outpost BGO-1 in Timae. Despite the canyon base's remote position, Sarge has been striving to get his small team into the thick of the war ever since.
Pfc. L. Tucker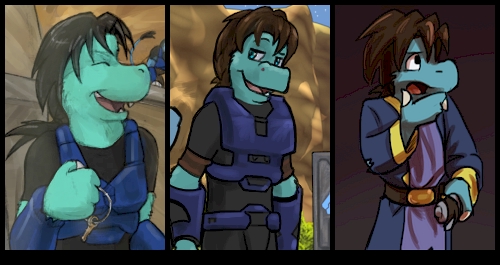 breed: shi'a, felis-catus
sex: hell yeah
color: turquoise
physique: big things come in small packages, baby
likes: pretty girls and/or a fine piece of tail
can't stand: cock-blockers; mustard
Tucker won't talk much about how he got into the Blue Falcon Army, although if asked, he'll tell you it's all part of his grand plan to pick up chicks. Despite not meeting a single female since he's been stationed at Blue Base under Capt. Flowers, Tucker remains hopeful that his luck with the ladies (or any lady, at all, really) will turn around.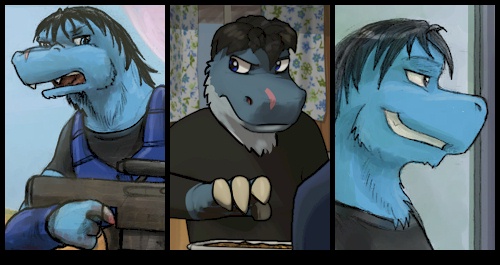 Pvt. L. Church
breed: fi'la, canis-lupus
sex: male
color: maya blue
physique: big-boned, goddamnit
likes: a full stomach; some peace and freaking quiet can't stand: everyone in his unit; everyone in the other unit, too
Church makes his living in the army being miserable. When he's not being harassed by the enemy, he's constantly annoyed by his teammates, and since the death of their captain, Church has felt responsible for holding the survivors together in some semblance of a squad. The only thing that seems to cheer him up is the slim chance of getting out of this war with (what's left of) his team alive.
Pvt. M. Caboose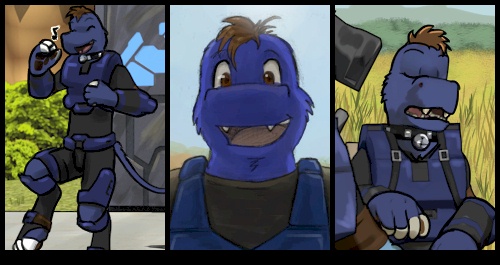 breed: fi'la, canis-infans
sex: male
color: persian blue
physique: I got my first 'A' in P.E.
likes: any attention, positive or negative; cookies
can't stand: burnt toast; energy drinks
Although Caboose scored well and above most of the other Blue recruits in fitness, speed and stamina, his intelligence marked so far below the bar that his superiors couldn't trust him with the operation of a basic firearm (as well as certain kitchen utensils.) When they attempted to deploy him as a scout instead, Caboose nearly sabotaged his entire squad in an accident only referred to on his record as, "sneaking time." Eventually he was transferred to a remote box canyon in the hope to contain the private's well-intended mishaps--or at least, keep them as far away from the front lines as possible.
Bunny S. Lops III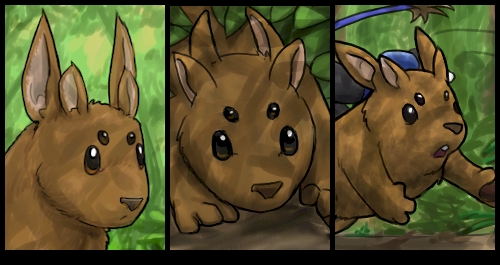 species: Bunolagus quadlops
sex: male
color: brown
physique: small 'n fluffy
likes: grass, carrots, table scraps
can't stand: loud noises, predators
After being captured in the woods between the warring Red and Blue bases, Mr. Bunnylops is now Caboose's pet and a general pest around Blue Base. His daily mission is to dig through the bottom of the garbage can in the kitchen for scraps, and not get caught and/or eaten by his mortal enemy, Church. The preferred method for cooking and seasoning Mr. Bunnylops is classified.
Omega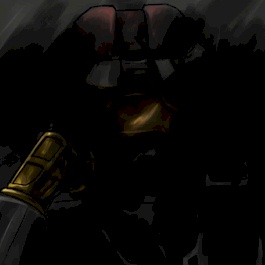 breed: ???
sex: I don't even want to know, seriously
color: shadowy
physique: scary
likes: evil
can't stand: do-gooders
Dark and aloof, the omnipotent Omega reigns over the ring-world from his citadel in the ice-locked valley of Kaprime. In his capital city, Omegrad, Omega's loyal high priests dictate the law and run the House of Omega, the church dedicated to his worship. As the god and king of all chupas, Omega is both revered and deeply feared by his people, and his wrath has been known to obliterate entire armies.
It is said that Omega's house has many dark secrets...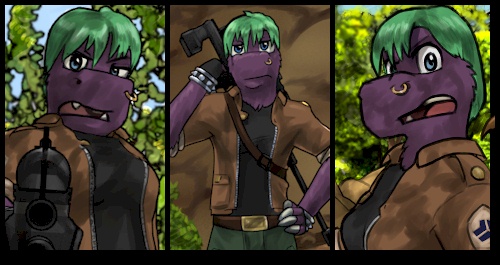 Agent South
breed: fi'la, felis-equus
sex: female
color: orchid
physique: tall
likes: body art can't stand: werewolves
South is a freelancer, an agent under contract with the Red and Blue armies to bring her special skills to the battlefield. Although her aloof and caustic manner leave much to be desired, she is not to be underestimated in a fight (especially by anyone calling her a girl.) After losing her brother to a "werewolf," South has lived for vengeance.
Doc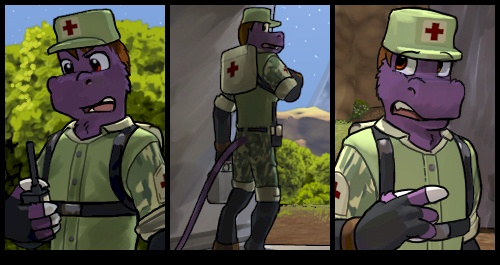 breed: shi'a, canis-felis
sex: male
color: purple
physique: slim
likes: herbal remedies
can't stand: bullying
After running away from the family business of mining iron in Qoppa and flunking the MCAT hard enough to disgrace at least three of his ancestors, Frank Dufrense resigned to joining the army as a conscientous objector. Not entirely sure where to place such a wash-out of a recruit (especially since he's neither exactly red nor blue), the military put him on loan to both armies as a medic. He received the moniker "Doc" in boot camp, yet after the gruesome fates of his first dozen patients, the nickname stuck more out of irony than anything. Nonetheless, Doc optimistically embraces the opportunity to help his comrades--even if that only means helping them bleed less quickly to death.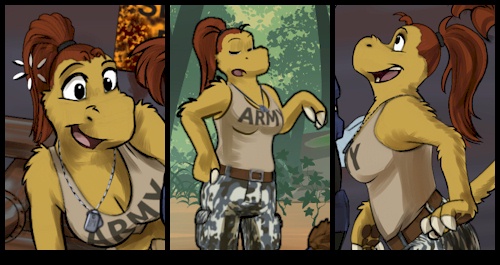 Sister
breed: shi'a, felis-leporidae
sex: female
color: yellow
physique: thic(k)
likes: reality shows; popsicles; other things to suck can't stand: Cindy from boot camp, that chatty bitch
Leaving her family business in the circus behind, Sister joined the army in order to find her long-enlisted brother. Initially posted in Blarganthia, she left her unit and stole aboard a train in order to follow a lead towards her sibling's far-flung outpost. The officer investigating her AWOL status couldn't discover any clues to follow afterward, though all the men working the train grinned strangely when she was mentioned...
Mura
breed: ???
sex: female
color: white, purple & green
physique: dreamy
likes: being mysterious, singing, dancing can't stand: rude awakenings
Not all things in dreams are what they seem
and not all dreams are things to be seen
but for every dream we meet, a memory he keeps.